The Panaewa Zoo is the only natural tropical rainforest zoo in the United States. The Zoo is home to more than 80 animal species, including the endangered Nene (Hawaii State Bird). You can picnic in the shade of over 100 varieties of Palm or stroll with Peacocks in the extensive collection of orchids, clumping bamboos and tropical rhododendrons. The plantings by volunteers is continuous which turns the zoo grounds into a beautiful botanical garden.
The Zoo offers a variety of activities, such as:
Picnic in the shade of over 100 varieties of Palm
Visit the gift shop- all proceeds help support the zoo
Stroll with Peacocks on the Zoo botanical gardens
Several times a year the "Friends of the Zoo" organization hosts a "Family Fun" day providing entertainment, games and refreshments
Visit the petting zoo on Saturday from 1:30 to 2:30
Best of all, admission is FREE!  The zoo is opened from 9 to 4 every day except Christmas and New Years Day.  Visit their website at http://www.hilozoo.com
Click on map to enlarge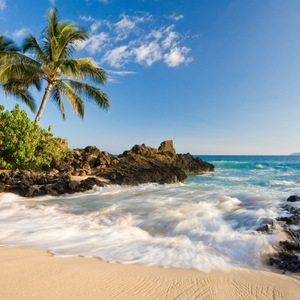 Hawaii exudes romance. With its diverse landscape featuring lush green forests, active volcanoes, waterfalls and exotic beaches, plus gorgeous sunsets, an endless list of activities and a well-preserved cultural heritage, the Aloha State is a magnet for newlyweds. Here's a list of our top romantic activities in Hawaii that will keep the sparks alive throughout your honeymoon.
Haleakala Sunrise
Mount Haleakala (meaning "House of the Sun") on Maui offers some of the most stunning views of sunrise in the world. On your journey, rise early and head to the summit of the 10,000-foot mountain just before dawn and then witness a dazzling array of colors that will appear before you in a moment's notice. The experience is one-of-a-kind and inspiring, and the memories will last a lifetime. For those more adventurous couples, sign up for a sunrise bike trip with Bike It Maui, where you'll be able to catch sunrise before going on a guided bike tour down the mountain.
Picnic at the Beach
Keep things simple and pack up some supplies featuring local specialties for a romantic picnic on the beach. To ensure of an intimate experience, head to a more secluded spot like Kapalua Beach or Hamoa Beach on Maui, Papohaku Beach on Molokai, Kailua Beach Park on Kauai or Waimanalo Beach Park on Oahu. But no matter which island you visit, there are plenty of beautiful and remote beaches just waiting for you to explore.
Hana Highway Journey
Some believe that if heaven had a highway, it would look exactly like the Road to Hana. Packed with rainforest, waterfalls, canyons, rocky beaches, sea caves, swimming holes and unique roadside stands, the drive is truly spectacular and the perfect romantic excursion. Rent a car together and take your time as you make your way down the winding highway towards the village of Hana. Stop at a fresh juice stand before swimming in a mountain-fed river beneath cascading waterfalls. Or simply pull-over at a gorgeous vista before walking hand-in-hand on a secluded beach.
Sunset Cruise
Your honeymoon to Hawaii won't be complete until you charter a sailboat and take a private cruise on the warm waters of the Pacific at sunset. This unforgettable journey will ensure romance and a unique time of togetherness. Share a kiss and watch the colors of the setting sun reflect off the blue waters of the ocean. Bring along some champagne or wine and simply embrace the beautiful scenery and one enchanting experience.
An Authentic Hawaiian Luau
An evening of traditional Hawaiian music, dancing, stories and cuisine is a must for any newlywed couple visiting the state. As the sun sets in the distance, watch beautiful dancers and performers celebrate Polynesian culture, sing songs and tell stories of old Hawaii. Old Lahaina Luau on Maui is highly recommended, along with The Luau at Kona Village on the Big Island and Ali'i Luau at the Polynesian Cultural Center on Oahu.
Private Helicopter Tour
Enjoy an unforgettable bird's-eye view of Hawaii's diverse landscape. Come face-to-face with oozing lava, majestic waterfalls and the rugged coastline and see Hawaii from an entirely different vantage point. Blue Hawaiian Helicopters is highly recommended and features private sightseeing tours of Oahu, Kauai, Maui and the Big Island.
Botanical Gardens Tour
Take a day together to explore some of Hawaii's most impressive museums of living plants. Walk along trails and wooden bridges right beside waterfalls and thousands of colorful plants native to the islands. Stroll beside wild orchids and mazes of banana, mango and pineapple trees. Hawaii Tropical Botanical Garden just north of Hilo on the Big Island is our personal favorite, but most islands feature some quality choices.
Oceanside Couples Massage
Spend a relaxing morning together with an invigorating oceanside massage treatment — perfect for recovering after one of your adventure days. Listen to the soothing sounds of the ocean as you get lulled to sleep by an experienced massage therapist. Choose from a variety of traditional Hawaiian massage techniques, too, like Pohaku and Lomilomi.
Stargazing at Mauna Kea
A sunset tour and stargazing trip to Mauna Kea, one of the Big Island's dormant volcanoes, is surely one of Hawaii's most romantic and memorable activities. Reaching a height of 13,796 feet and situated in the middle of the Pacific Ocean, Mauna Kea is one of the world's premier astronomy locations. And with nearly 325 nights of clear weather, you can bet on an unforgettable evening of stargazing. Summit Adventures provides some amazing tours, along with knowledgeable guides and impressive astronomy equipment.
Information for this post provided by http://www.travelersjoy.com
Hawaii is a great place which you can choose for both business and family trips. This is a place that has so much to offer that you can spend your vacation on the lap of nature. For families and work groups, it is important to spend some time together so that they understand each other and can make things go smoothly. There are many activities available near the golf condo Hawaii that can make the members of a family or business partners to take part together. There are many benefits in choosing this rental home hawaii for your trip.
Serene Environment
Our golf condo Hawaii can provide you with a serene environment that can help you in easily organizing a meeting for discussing important projects with your clients. The whole environment is so green and lush that there is the possibility for influencing your meeting in a very positive way because the serene environment can always influence minds positively. Meeting conducted in such an environment can be more informal and productive. This is the best thing that can benefit the business trips. If you are with the family, it is the perfect place for you to get away from the hectic city life and become one with nature.
Water Sports
After meeting with your clients, it is time to relax. You can enjoy many activities as a group by taking part in various water sports. There are so many luxurious resorts near golf condo Hawaii offering various activities including water slides, swimming, surfing, boogie boarding, sailing, surfing, and site seeing.  If you have kids, there are a number of things to do with them including kiddie pools filled with sand to give them the tropical experience.
Discovering Dolphins
There are many tours available which can provide you with dolphin encounters. The dolphin encounter activities are available near our golf condo rental so that you get acquainted with these beautiful creatures of the sea and it is fun to watch and play with these interesting sea creatures. You can swim with the dolphins with our highly recommended Captain Ray from the OneLoveOneSpirit team.
Cultural Activities
If you are staying in our rental home Hawaii, you can take part in various cultural activities that are happening around it. Its great location allows you to enjoy the many activities in the area. You can take part in the live shows of traveling musicians on the beach and enjoy the native Hawaiian music along with your favorite drink. There are many great restaurants in this area which serve the best delicacies of Hawaii.  We highly recommend the Lava Lava Beach Club and Brown's Beach House for your dining pleasure.
Enjoy Your Stay
It is our hope to share the beauty of Hawaii with you.  We endeavour to make a vacation in paradise not only affordable, but to feel like a family home.  It is our hope that this feeling is conveyed the minute you open the front door.  Whether you are a family hoping to take advantage of all the activities available for toddlers to teens, a golfer hoping for the ultimate golf experience, honeymooners, or empty nesters looking to reconnect – we think this will be the perfect place for you.